Manchester United boss Jose Mourinho says his war of words with Chelsea head coach Antonio Conte is over ahead of Saturday's FA Cup final.
The pair have been involved in a long-running feud which started last season when Mourinho clashed with Conte after Chelsea's 4-0 win over United at Stamford Bridge and later said the Italian's celebrations were "humiliating".
This season Conte used the Italian phrase "demenza senile" in relation to the United manager, which translates as senile dementia with Mourinho responding by alluding to Conte's match-fixing suspension at his former club Siena, which he was later acquitted of.
 Mourinho v Conte: A timeline of insults
There is no love lost between Jose Mourinho and Antonio Conte with the feud turning increasingly hostile in recent weeks.
But the United boss claims the pair are now at peace and fans should not expect wounds to be re-opened at Wembley on Saturday.
Asked about his relationship with Conte, Mourinho told Portuguese newspaper Record: "It's okay. It's okay. He stretched out [to shake hands], I stretched out. We got bored.
"After the game in Manchester, I invited him to come to my office. We talked. Nothing's wrong."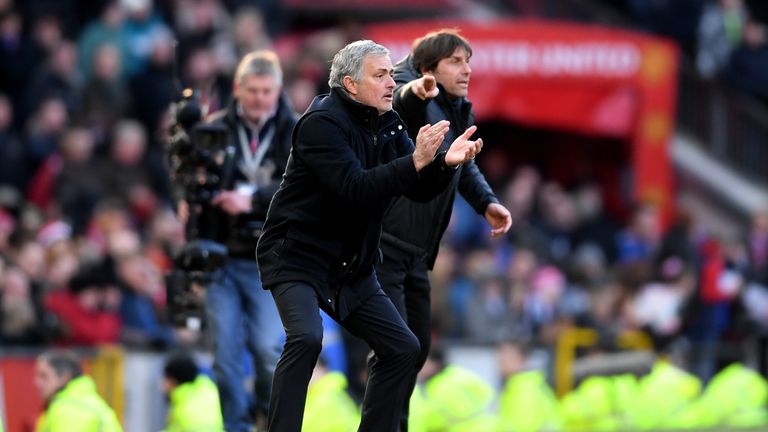 Mourinho also revealed he plans to replace departing assistant manager Rui Faria with a new coach whom he has worked with before.
He said: "It's a person coming who worked with me before but I can't say the name because he's still linked to another club.
"Good coaches there are many, but I like to make my assistants. I do not like trained coaches, I like to shape them in my way of thinking and they grow with me and I also grow with them."