A US envoy has arrived in Tel Aviv for de-escalation talks as unrest between Israel and the Palestinians continues.
Hady Amr will take part in talks with Israeli, Palestinian and UN officials and reinforce what US diplomats said was the need for a "sustainable calm".
An Israeli air strike on a refugee camp in the Gaza Strip killed 10 people on Saturday, while a Palestinian rocket killed a man in Israel.
This week's violence in Gaza and Israel is the worst since 2014.
US President Joe Biden made diplomatic phone calls to Israeli Prime Minister Benjamin Netanyahu and Palestinian President Mahmoud Abbas on Saturday. The international community has urged both sides to end the escalation.
At least 139 people have been killed in Gaza and nine in Israel since this fighting began on Monday. Israel says dozens of militants are among the dead in Gaza, while Palestinian health officials say nearly half are women and children.
The flare-up of violence over the last six days came after weeks of spiralling Israeli-Palestinian tension in East Jerusalem, which culminated in clashes at a holy site revered by both Muslims and Jews. Hamas began firing rockets after warning Israel to withdraw from the site, triggering retaliatory air strikes.
How did the fighting escalate on Saturday?
Thirteen people died in the Gaza Strip on Saturday, with 10 killed by an Israeli air strike at a refugee camp west of Gaza City, Palestinian health officials said.
A five-month-old baby is said to be the only survivor of that strike, found trapped in the rubble next to his dead mother. A number of people were also reported missing.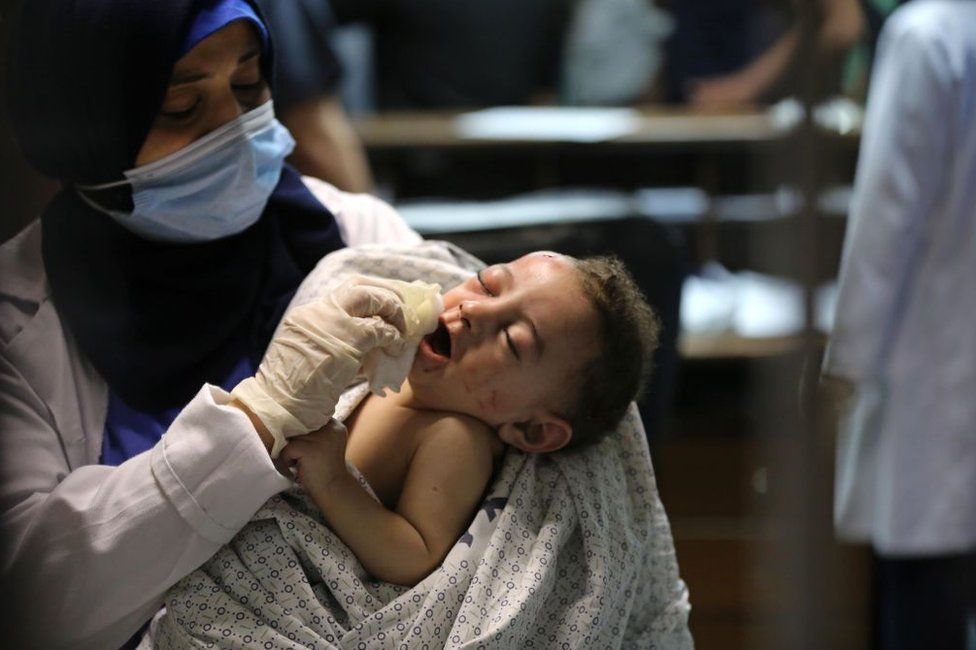 Akram Farouq, 36, dashed out of his home in Gaza along with his family after a neighbour told him they had received a call from an Israeli officer warning their building would be hit, Reuters news agency reports.
"We haven't slept all night because of the explosions, and now I am out in the street with my wife and children, who are weeping and trembling," he said.
An estimated 10,000 Palestinians have left their homes in Gaza since Monday because of the conflict, according to the UN.
Saturday also saw an Israeli air strike destroy a tower block in Gaza housing media organisations. No-one is known to have died in this attack.
Israeli officials reported about 200 rocket launches from Gaza overnight, with homes hit in the southern cities of Ashdod, Beersheba and Sderot.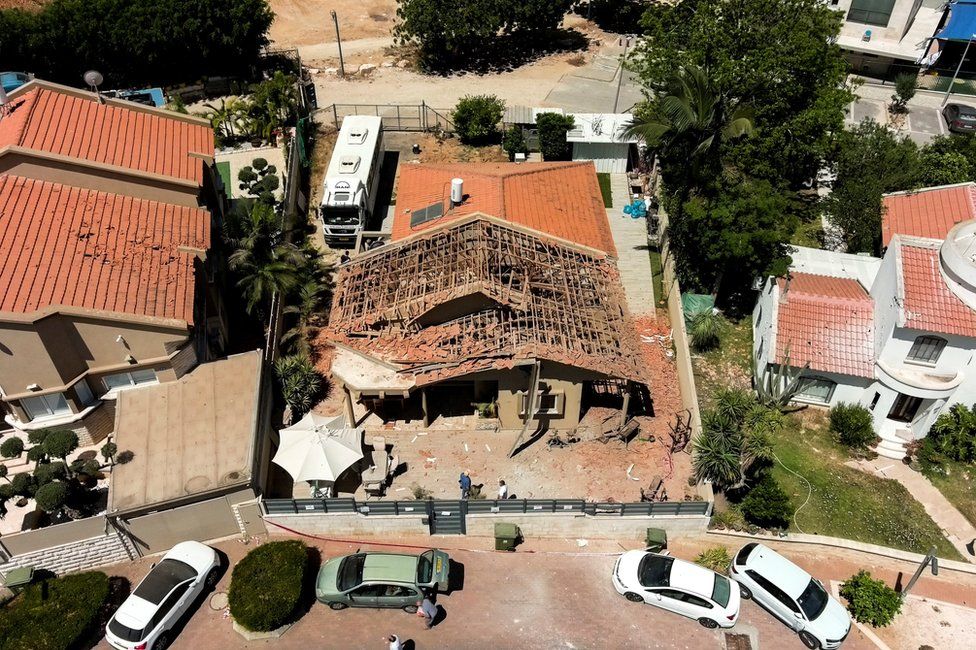 In the afternoon, a rocket hit a street in Ramat Gan, a suburb of Tel Aviv, killing a man. He was reportedly hit by shrapnel in his apartment.
About 2,300 rockets have been fired from Gaza at Israel since Monday, with about 1,000 intercepted by missile defenses and 380 falling short and dropping into Gaza itself, Israel's military says.
There had been concerns of heightened tensions on Saturday as Palestinians were commemorating what they call al-Nakba, the Catastrophe. It marks the displacement of hundreds of thousands of Palestinians, who were forced or driven from their homes in the Arab-Israeli war, which began the day after Israel's declaration of independence in 1948.
What happened to the Gaza tower block?
On Saturday afternoon, an Israeli air strike destroyed a high-rise building housing media organisations, including The Associated Press and Al-Jazeera, plus a number of offices and apartments.
In a statement released shortly afterwards, the Israeli military said the building housed military assets belonging to Hamas, the Palestinian militant group that rules Gaza. The building's landlord has denied this.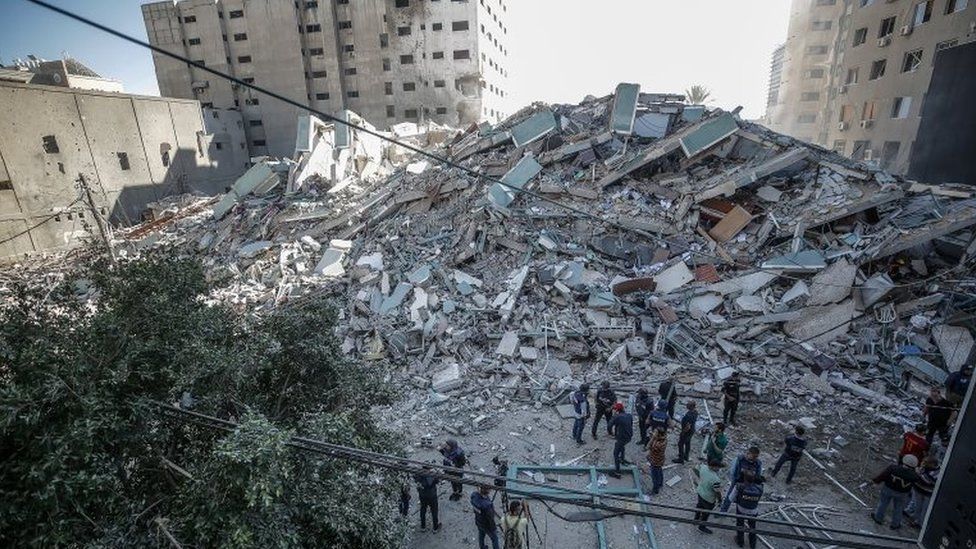 The Associated Press (AP) said the block was hit roughly an hour after Israeli forces ordered people to evacuate.
The news organisation's CEO, Gary Pruitt, said: "This is an incredibly disturbing development. We narrowly avoided a terrible loss of life. A dozen AP journalists and freelancers were inside the building and thankfully we were able to evacuate them in time."
What is the US envoy seeking to achieve?
Mr Amr's arrival comes ahead of a UN Security Council meeting on Sunday. The US embassy in Israel said the aim of his trip was to "reinforce the need to work toward a sustainable calm".
Mr Biden's administration has had to rapidly step up its game on the diplomatic front without a full team in place: there is not even a nominee yet for ambassador to Israel.